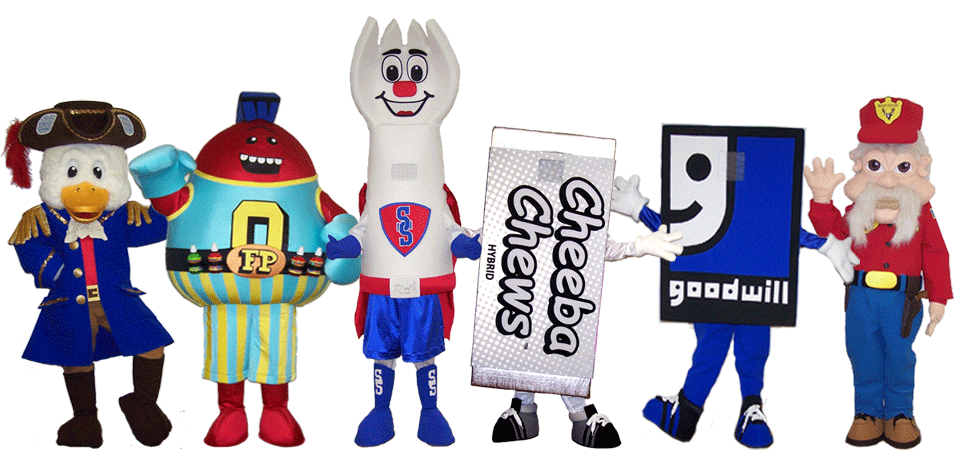 Mascot Accessories
Some things you just really need in order to maximize the value of your new mascot costume. Lost or need replacements? Don't worry, we sell these items individually.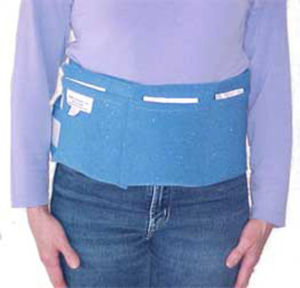 PROMO PACK COOLING SYSTEM
A fully adjustable belt that fits around the midriff and containing 8 reusable ice packs. One set of the ice packs will generally last around 3-4 hours. Using the ProMo Pack will keep the performer substantially more comfortable.
CUSTOM CARRYING BAG SETS
The Custom Bag Set is used for storing your costume and to transport your custom character costume to the various venues. Keeping your mascot costume out of sight of the public helps to maintain the image of your character. The bag set will keep your custom mascot clean and ready for the next appearance.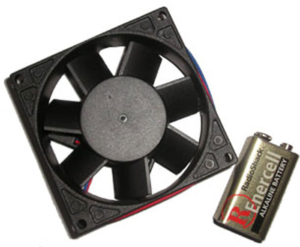 COOLING FANS
Battery operated cooling fans can also be installed in the head of your new custom character costume.  Easily obtainable 9-volt batteries power these cooling fans.  Rechargeable batteries can also be ordered.  These cooling fans help to keep the mascot performer more comfortable by venting warm, moist air out of the costume while bringing in fresh, drier air from outside the costume.
CUSTOM HEAVY DUTY SHIPPING CASES
For mascots that need to be shipped frequently, ProMo Costumes offers custom designed shipping cases. The cases are designed for your specific character and constructed of plywood, covered with heavy duty ABS plastic. The hinges and the reinforced corners and edges are made of plated steel. Fully protecting your mascot costume during the shipping process, these durable cases can often be shipped via UPS or FEDEX.
Mascot Costume Clothing & Props
CUSTOM CLOTHING FOR MASCOTS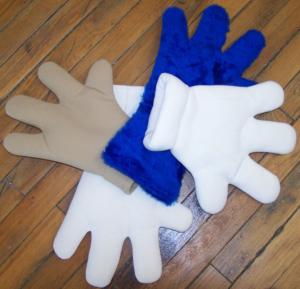 We all get tired of the same outfits from time to time.  Image only having one outfit!  There are specific events that we need to have that special outfit.  Holidays provide opportunities to dress up in specialty clothing and accessories.  What's the 4th of July picnic without a new shirt and shorts outfit?   
Mascots, just like the rest of us, like to change things up from time to time.  Why not add a hat, scarf, new shirt, or a complete formal wear ensemble to dazzle the public.  We can create most any single accessory item or a complete wardrobe for your new or existing mascot costume.  These are customized to fit your character. 
Celebrating a company anniversary?  Stockholder meeting? Why not dress your mascot up for the occasion? Think custom formal wear.  Special school or sports event? Consider a custom printed shirt or ball cap.  The holidays present great opportunities. 
You get the idea, anything that you can imagine, we can create it, customized for your mascot.   Call us, it's always fun to discuss the possibilities. Can a "cat" mascot be a clothes "horse"? Remember, change is good..

CUSTOM PROPS for Mascot Costumes
Sometimes your mascot could use a prop to project a certain image or to focus on a special event or project.   Swords, shields, tools, shovels, sunglasses, wands, books, just to name a few.  Don't worry, we will help you with the props.  We can create the perfect set of props for your character.  We can provide custom props with your new mascot costume or we can design and create them for your existing mascot. The props can be personalized with your company or school logo.  This is going to be fun!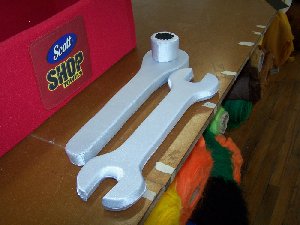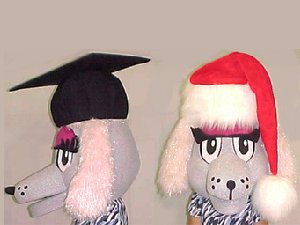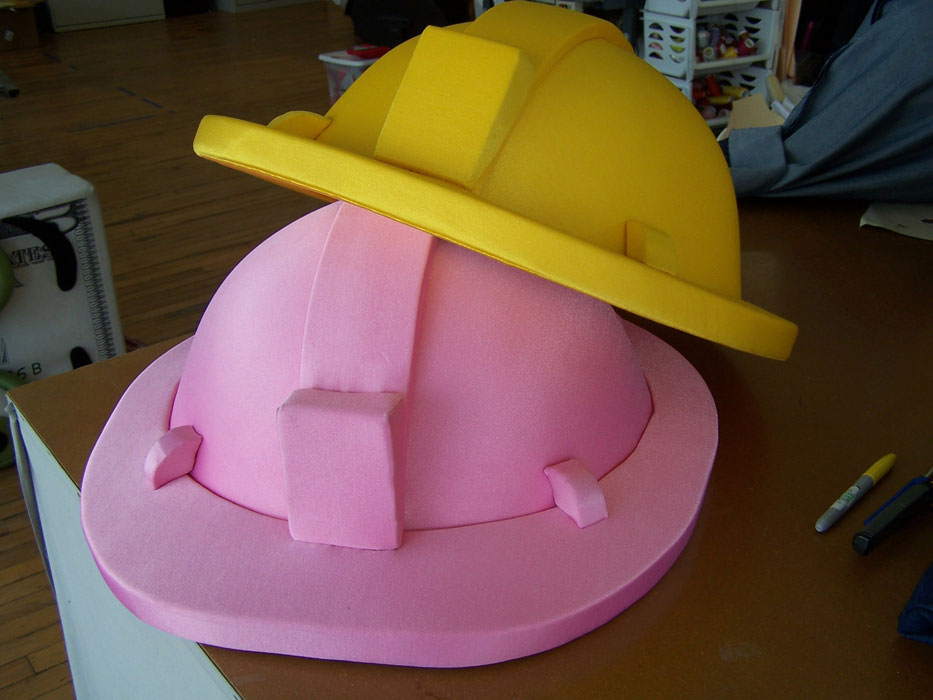 Plush Toys & Puppets
PLUSH TOYS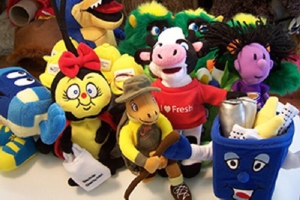 ProMo Costumes can provide miniature replicas of your new or existing custom mascot. These are usually 6-7 inch plush toys, but can be designed in any size. They are an excellent way to brand your new (or existing) character with your company or organization's product or message. They can either be given away or sold. Selling them can help to offset the maintenance cost of your mascot programs. 
Schools can sell or give them away to generate excitement and school spirit. The proceeds from the sale of the miniature plush toys can be used to help fund other school activities or help pay for the cost of the mascot!
Our miniatures are very economical. We can usually provide a ballpark estimate over the phone, but a firm price cannot be made until final approval of the sample. The sample process usually takes about 30-40 days. After approval of the sample, the production run takes about 150 days for final delivery. All miniatures are priced FOB Marion, Ohio.
We require a minimum order of 2500 pieces for the miniatures plush toys. These orders are produced overseas. Information concerning the overseas facilities and operations can be obtained, upon request.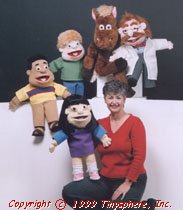 PUPPETS
Our Puppet Shop can take your design and using the same expertise that we use to make our larger mascot costumes, create wonderful engaging custom character puppets. These puppets can be of any size or style. They can be hand puppets or marionette style. Our custom puppet shop can produce a single character puppet or an entire show.
To begin, just give us a call or email us with your requirements. We will provide a quote for your puppet, including specific construction details and fabric samples. During construction, we will provide progress pictures so that there are no surprises upon delivery. This is an additional step that we take to assure your complete satisfaction.
Once the puppet is completed, we can reproduce it at any time, producing smaller quantities at our facility, or thousands, using our overseas suppliers.