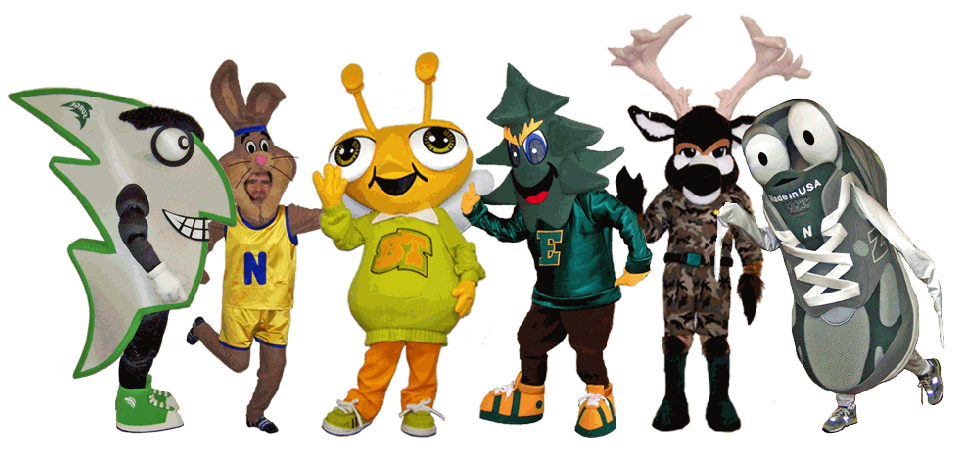 You can't find a friendlier costume company. Our customer service is fantastic. Try us!
Our designs and constructions are the finest in the industry.
Our mascots are designed and created here in the USA.
We view creating one of a kind character costumes from complex inanimate objects as a really good time.
We love working with ad agencies. Complex designs and requirements are our specialty.
We take care of your mascot after the sale, providing full cleaning and refurbishing services.
Free design, sketches, and fabric swatches.
We can design a character for you or take your design and create the perfect character costume for you.
Located in central Ohio.
One call is all it takes. Our friendly knowledgeable staff can answer your questions and provide just the perfect level of information that you require.
We're small enough to provide fantastic one on one relationships yet large enough to handle your most complex mascot requirements.
We have the manufacturing capacity to create from a single mascot to dozens or hundreds. Let us know what you need and we'll take care of it.
We're a family owned business with one of the owners almost always available.
We treat each customer with respect, regardless of the size of your enterprise.
We are not the most expensive. We target the upper mid range price wise, while providing unsurpassed quality.
We check up on you after the delivery to make sure everything is going well with your new character costume.
We send jpegs of your costume as it is being created, allowing you to tweak the design as it is being built. You know exactly what your mascot looks like before we ship. NO SURPRISES!
Let's get started!  This is going to be fun.  Please contact us today.
CLICK HERE to send an eMail to adam@promocostumes.com or call Adam directly at 800-572-2666